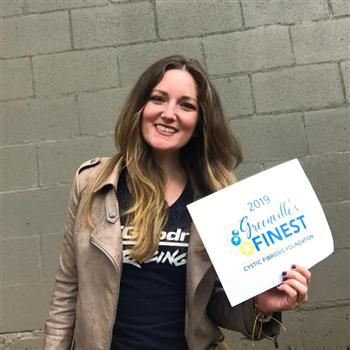 Edit in profile section
Welcome to Hannah Crenshaw's Page - A Note on the Foundation
Hannah Crenshaw
--March 2019--

Nick's follow up visit to Emory produced some solid results. FEV1 improvement jumped from 55% to 71% and gained a whopping 6lbs.

This is the last month of my fundraising efforts and I've got just over $1000 more to raise. But this time--there's something in it for you! I'll be raffling off a set of 4 MICHELIN OR BFGOODRICH TIRES for your ride! Raffle tickets are $10 each, or 3 for $25! You can text me directly at 864.784.7741 to purchase and/or Venmo!

--February 2019--

A couple weeks ago Nick asked that I ride with him to Atlanta for his scheduled appointment with CF doctors at Emory University Hospital. For years as kids, we would go to his appointments taking place at the Children's Hospital. But now he's graduated to Adult Care—pointing to one of the major shifts in the way his doctors (and we!) speak about CF. I heard Nick's Respiratory Therapist Mews, Nick's first of many healthcare professionals, say that CF is now an Adult disease, no longer a pediatric disease.
When I first created my fundraising page here, I'll admit, I took much of the prose provided from the Cystic Fibrosis Foundation and used "copy + paste". But on the heels of Nick's visit last Friday, I wanted to share where I experienced and felt first-hand the work CFF is doing—impacts felt through an increase in education, the research developments and level of care for patients with CF and their families. You see, in 30 years, it was the first time I walked away knowing and feeling that they are making #GreatStrides in finding a cure. I learned so much more about the genetic disease Nick has endured.

Unfortunately, this particular visit wasn't a great one. The doctors suggested he be admitted and stay a couple days with them to get the treatments he needed in an expedited fashion. Nick's PFT (Pulmonary Function Test) results were down—his lung function had dropped 17% from last visit. He had also lost 5 lbs. I learned that his weight has a direct correlation to his lung function. If he could gain weight it may help his breathing capability and oxygen intake. Dr. Hunt illustrated that his drop in PV1 is nearly a liter loss of air he's taking into his lungs.

Through the course of the visit, we were visited by a respiratory therapist, a geneticist, a dietitian, a social worker, an intern, a pulmonologist. And with each visit, I learned a little something new about the effects of CF. We walked away with Nick getting access to a better vest, better inhalers that enable patients to live life hopefully in a bit less intrusive way. And more knowledge of how an adult like my brother, can live a more "normal" adult life.

Hannah's hit list of learnings that I didn't know before now:
- Impacts on reproduction. 95% of males have a blocked or missing vas deferens. But advancements allow them to have biological children through procedures, And possibly even completely healthy children.
- 5 types of mutations of CF gene. Different CF patients grow different bacteria. Recent studies have discovered this and it is critical not to cross-contaminate between patients.
- CFRD (CF Related Diabetes) is a thing. It's a little different from type 1 and type 2, more of a combination of the two, and is related to the defects of the cf mutation on the pancreas.
- PICC line is not "Pick line". haha. There's a difference. and it's not to suggest they pick the skin and insert an IV. There's more to it. =)
- Nick and other CF patients get DOUBLE the servings of food during their hospital stay--they even may suggest friends and family still send food. CF patient + calories + calories = Bonus!

Nick stayed in ATL for 4 days at Emory University Hospital and was sent home to continue ~10 days of antibiotics, IVs. He's put on some weight and has another follow up this week. Fingers crossed for stronger PFT results.

Sincerest thanks to the CF Foundation for collaborating together with the doctors, with the patients, with the researchers, with families, and addressing the multitude of issues that Nick and many others face. I'm proud to stand behind an organization that is doing incredible and meaningful work. Keep it up until there's a cure.

--Kick-Off January 2019--

I will soon be honored by the Cystic Fibrosis Foundation at a special event recognizing outstanding young professionals in my community. In accepting this distinction, I have committed to raise money to help the Foundation realize its mission of controlling and curing cystic fibrosis (CF).

When I was child, growing up as Nick's older sister, Mondays typically were a day where I dreaded going to school alone. I teased Nick for laying out of school, not yet fully understanding the illness that kept him homebound so often. A few times, our mom allowed me to "skip" school to make the trip alongside to Nick's doctors visits at Emory in Atlanta. I distinctly recalling hearing that "patients with CF (eh, Nick!) had a life expectancy of 21". I chose to participate in this campaign to assist with the hopes that it brings us closer to a day where CF stands for Cure Found.

Please help me meet my fundraising goal by making a donation. Your generous gift will be used efficiently and effectively to help support vital CF research, medical and education programs.

Making a donation is easy and secure! Just click the Donate button on this page to make a donation that will be credited to my fundraising efforts. Any amount you can donate will be greatly appreciated! You can also purchase a ticket to the Greenville's Brewer's Ball here--taking place on April 4th and sure to be a good time!

Cystic fibrosis is a devastating genetic disease that affects the lungs and digestive system. More than ten million Americans are symptomless carriers of the defective CF gene. Advances continue to be made in finding a cure, but your help is needed now -- more than ever -- to help keep up the momentum of this life-saving research. Sixty years ago, children with CF usually did not live long enough to attend elementary school. Today, because of Foundation-supported research and care, the median survival age of people with CF is about 40. This is remarkable progress, but not good enough. We continue to lose precious lives to CF every day. To learn more about CF and the CF Foundation, visit cff.org. Together, we can make a difference in the lives of those with cystic fibrosis. Thank you for supporting the mission of the CF Foundation!
Solid improvement, Nick! Attaboy!
PFT - hard at work.
"Bye, Nick! Catch ya in few days." Ok, this felt strange saying goodbye for an unknown amount of days.