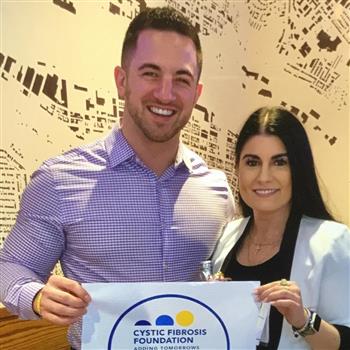 Edit in profile section
Welcome to Justin Heinauer's Pittsburgh 50 Finest Page
Justin Heinauer
Hello and Welcome!

I'm incredibly grateful for my family, friends, mentors and peers who have been so incredibly supportive along this journey, and through my spiritual, professional, and personal development over the years. THANK YOU ALL for your support, kindness, and friendship as I truly value each and every one of you!

2019 marks the 24th Anniversary of Pittsburgh's 50 Finest presented by UPMC and UPMC Health Plan! This year, I've had the honor of being selected to be part of this prestigious and well accomplished group of young professionals in the Pittsburgh area.

The Cystic Fibrosis (CF) Foundation honors a select group of men and women from cities or regions across the country that are committed to professional growth through a guided fundraising and awareness campaign. These honorees exemplify strong leadership qualities, are active in their community and have excelled in their chosen professions. The honorees will enjoy many benefits throughout the campaign, primarily the knowledge that they are helping to better the lives of children and adults living with cystic fibrosis.

The Pittsburgh's 50 Finest campaign begins with a kick off reception where the nominees will be introduced to other nominees, staff and special guests. Throughout the campaign, Pittsburgh's 50 Finest honorees will have the opportunity to network at various Foundation events and be featured in Pittsburgh's WHIRL Magazine. The campaign will culminate with the Pittsburgh's 50 Finest finale celebration Gala. This evening honors the honorees 'accomplishments as a CF Foundation ambassadors, and provides guests with fabulous food and refreshments, entertainment and fun!

Please help me meet my fundraising goal by making a donation. Your generous gift will be used efficiently and effectively to help support vital CF research, medical and education programs.

Making a donation is easy and secure! Just click the Donate button on this page to make a donation that will be credited to my fundraising efforts. Any amount you can donate will be greatly appreciated!

Cystic fibrosis is a devastating genetic disease that affects the lungs and digestive system. More than ten million Americans are symptomless carriers of the defective CF gene. Advances continue to be made in finding a cure, but your help is needed now -- more than ever -- to help keep up the momentum of this life-saving research. Sixty years ago, children with CF usually did not live long enough to attend elementary school. Today, because of Foundation-supported research and care, the median survival age of people with CF is about 40. This is remarkable progress, but not good enough. We continue to lose precious lives to CF every day. To learn more about CF and the CF Foundation, visit cff.org. Together, we can make a difference in the lives of those with cystic fibrosis. Thank you for supporting the mission of the CF Foundation!